As a veterinarian, the majority of animals I see on a daily basis are rescue animals. In general, this is an indication from the owner that the animal was obtained from a shelter, "pound", breed specific rescue group or from a home in which the animal was not well cared for. In some ways, over the past several years, the term "rescue" has had a connotation attached implying that we, as the rescuer, have done something noble and for the greater good. In most all cases, this is true.
The reality is, that rescue animals are often a bit older, have been relinquished for unknown reasons and very frequently have needs beyond that of a new puppy or kitten. The discounted cost for supporting a rescue organization and saving the life of the animal is just the beginning of our responsibilities to these unique pets.
Nator and his owner, Erika
This is especially true for our Pet of the Month, "Nator" Holtman. He was found along side the road by his owners Daniel and Erika in 2015. They were on a road trip to Tennessee with friends and their dog "Dude". One of their friends found "Nator" on the side of the road, opened her car and he hopped right in. She sent a photo of him to Erika and Daniel asking if "Dude needed a new brother". Erika says, "he was just so cute and nice, we knew right away he would be ours."
Her friend removed 17 ticks from "Nator's" head and ears, for which he still has scars. Since they were all staying in a dog-friendly hotel, Erika took him upstairs, where she found at least 15 more ticks on his body, bathed him and introduced him to "Dude". They were instant friends!
The next morning they took "Nator" to the vet in TN to be scanned for a microchip to see if an owner could be located. He was not chipped, so Daniel and Erika got him vaccinated, a fecal screen for intestinal parasites, for which he had a positive result and was treated. He also had a test for Heartworm infection, which was positive...
If you have any experience with this disease, it is devastating to dogs and to their owners. Dogs become infected through mosquito bites, where the larva of the parasite is injected into the skin during the mosquito feeding. As the larva mature, they travel to the heart, wedge between the valves and cause long term damage to the heart and lungs of infected dogs (and cats).
Treatment for a heartworm positive dog is usually between $1000-$2000, depending on the severity of the disease, and involves injections of an arsenic based medication to kill the adult heartworms. In addition, the pets have to be kept on STRICT exercise restriction for about 6-7 months. Knowing he would need a lot of additional medical care, Daniel and Erika chose to seek help with a "Go Fund Me" page and had enough to cover his treatments in just 18 hours!
He's an amazing dog and deserves this great family and his best friend, "Dude".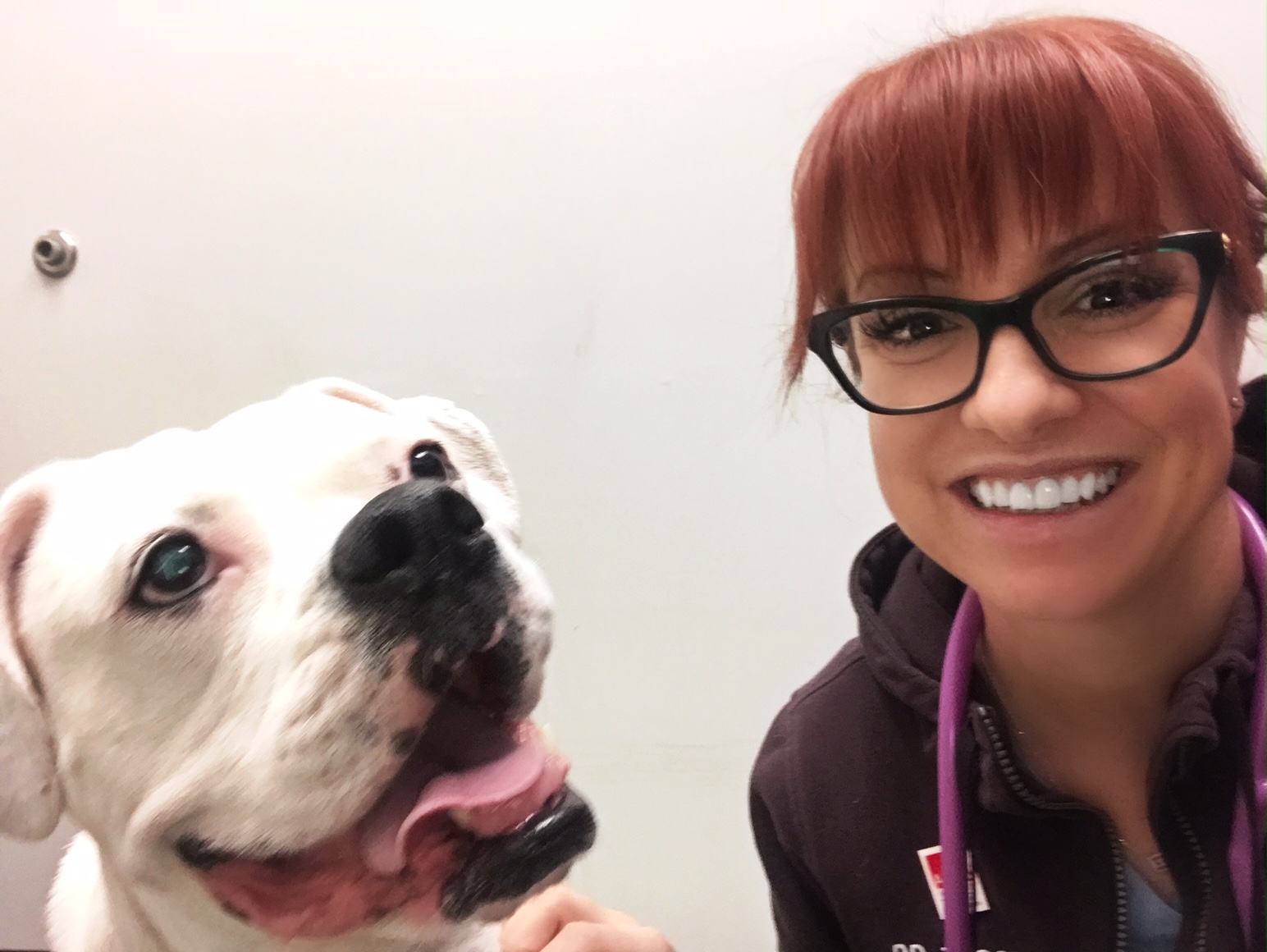 Adoption is just the beginning. It is our responsibility as pet owners to provide immediate, ongoing, and appropriate care for our rescues. Kudos to Daniel and Erika for being such phenomenal pet owners and for saving the life of one really great Dog!
Nator posing for his portrait in the exam room!